Qin Gang Meets with DRC Vice Prime Minister and Foreign Minister Christophe Lutundula
2023/05/22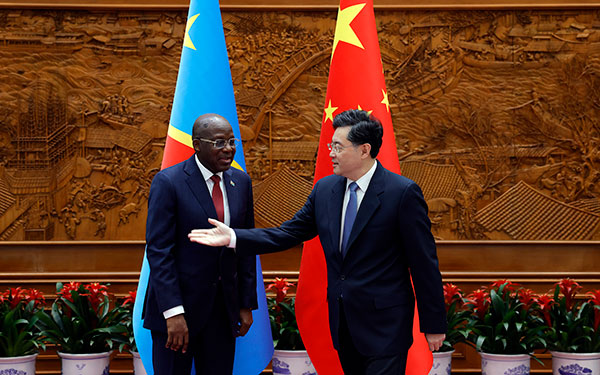 On May 22, 2023, State Councilor and Foreign Minister Qin Gang met with Vice Prime Minister and Foreign Minister Christophe Lutundula of the Democratic Republic of the Congo (DRC) in Beijing.
Qin Gang said that the DRC is China's good friend and good brother, and the two sides enjoy a time-honored friendship. China warmly welcomes President Félix-Antoine Tshisekedi Tshilombo's upcoming state visit to China, and looks forward to the two heads of state making top-level plans and setting strategic directions for the development of China-DRC relations in the next stage.
Qin Gang pointed out that both China and the DRC are major developing countries, with strong economic complementarity and broad prospects for cooperation. China has been the largest trading partner and source of investment for the DRC for consecutive years, and will continue to work with the DRC to proceed from the present while bearing in mind the future to advance high-quality Belt and Road cooperation, implement various common understandings within the framework of the Forum on China-Africa Cooperation, steer clear of disruptions to advance win-win cooperation between the two countries, and turn the DRC's resource strengths into a driving force for development. China hopes that the DRC will create a sound business environment for Chinese companies investing and doing business in the DRC, and ensure their security.
Qin Gang said that firmly supporting each other's core interests is a valuable takeaway from the 50-plus years of the smooth development of the China-DRC relationship since its normalization. It is also the core elements of the China-DRC strategic partnership. China is ready to work with the DRC to strengthen solidarity and cooperation at the UN and other multilateral settings, resolutely uphold the principle of non-interference in internal affairs, safeguard the common interests of developing countries, and make the international order and global governance more equitable and reasonable.
Lutundula said that over the 50-plus years since the normalization of the DRC-China relationship, bilateral relations have withstood the test of time and grown from strength to strength. He thanked China for its important assistance and valuable support for the DRC's economic and social development over the years, and reaffirmed the DRC's commitment to the one-China policy. Noting that President Tshisekedi is set to make a historic first visit to China, Lutundula said the DRC will wholeheartedly promote practical cooperation with China in various fields, and stands ready to work with China to enhance communication and coordination, develop bilateral relations based on constructive visions, and deliver more benefits to the two countries and peoples.